G. Morris Gurley is one of the original founders of the National Center for Victims of Crime. Mr. Gurley received a law degree from Harvard and was previously the vice president of trusts and estates and the head of trust administration at The Chemical Bank. He was also the chairman for the Annie Laurie Aitken Charitable Distribution Committee and the cofounder of the Brain Trauma Foundation. Mr. Gurley is an active lay member of the Methodist Church and serves as the vice president on the board of directors of the New York City Council of Churches. He also serves on the Commission of Religious Leaders of the City of New York and he is on the advisory council of the New York Board of Rabbis. (3 year term)
Known nationwide as a victims' rights advocate after her brother's murder in the infamous O. J. Simpson murder trial, Kim Goldman is the Executive Director of The Youth Project, a non-profit organization that provides free counseling, support groups, crisis intervention, and education and outreach to thousands of teenagers, since opening in 2000.
When not working with teens, Kim travels the country as an impassioned public speaker on victims' rights, the role of the media, judicial reform, and other related topics. Some speaking highlights include: Keynote Speaker for numerous such as National Victims' Rights Week events, Parents of Murdered Children Victims Conferences, The FBI National Academy Conference, Department of Justice (OJP), Speaker at Governor Wilson's Conference for Women, and guest speaker/panelist at universities and national events.
In 2016, Kim joined the nationally syndicated, Daytime Emmy nominated show, Crime Watch Daily with Chris Hansen as a Special Correspondent dedicated to telling stories from a victim's perspective. As an accomplished writer, Kim has appeared twice on the New York Times Bestseller list with His Name is Ron, Our Search for Justice, and If I Did It, Confessions of the Killer. In 2014, Kim authored her memoir Can't Forgive, and in 2015, Media Circus, A Look at Private Tragedy in the Public Eye. Kim is the Executive Producer and Host of Confronting: O.J Simpson Podcast series, which launched in June 2019 and was named #4 of the Best 100 Podcasts of 2019, with more than 7M downloads, and was previously the co-host of Broadscast, a radio show/podcast for and about women.
As the founding Co-Chair of The Ron Goldman Foundation for Justice, Kim also served as the Vice Chair for the National Center for Victims of Crime for many years, and currently as Co-Chair. She is a past Advisory Board Member for Habitat For Heroes, Advisory Board Member for Survivors Empowered, Vision 21 Committee member, and has collaborated with P.A.V.E (sexual assault prevention and awareness), Crime Survivors Inc., and other non-profit organizations dedicated to serving victims of crime.
Kim contributes to a variety of national media outlets and has been a guest on news programs such as Oprah, 20/20, TODAY, Good Morning America, CBS This Morning, Dateline, Primetime Live, Dr. Phil and others.
Kim's commitment to youth and those in need has positioned her as a leader in her community where she was recognized by Soroptimist International with the Making a Difference for Women award, honored as one of "40 under 40 Leaders" Business Professionals, nominated for Leadership in Non-Profit, received a "Going Above and Beyond" award from Crime Survivors, recognized as one of 51 Most Influential Leaders in Northern Los Angeles, and is a recipient of the Frank Carrington Champion of Civil Justice Award.
She is currently a resident of Greater Los Angeles where she raises her son. 
A member of the Georgia Bar since 1985, Melvin L. Hewitt, Jr., is the managing member of Isenberg & Hewitt, PC, in Atlanta. Mr. Hewitt attended Lakeland and Kent State University, later graduating from Atlanta Law School. After serving in the military, Mr. Hewitt spent six years in public law enforcement and 15 years in the private security industry. He has held positions in middle- and upper-management and was ultimately named president of Globe Security Systems, Inc., a private security firm with more than 13,000 employees and 110 offices in the United States and Europe. Mr. Hewitt left corporate America in 1989 so he and his wife, Harriet Isenberg, could open their private practice law firm in Atlanta. In addition to the Georgia Bar, Mr. Hewitt is a member of the Sandy Springs Bar, the Trial Lawyers of America, the Georgia Trial  Lawyers Association, the National Crime Victims Bar Association, the National Organization for Victim Assistance, the Lawyer's Club of Atlanta, and the Million Dollar Verdict Club. He has spoken on issues of premises liability, negligent security, wrongful death, rape, and violent assaults at local and national seminars, including the National Crime Victims Bar Association, the National Organization for Victim Assistance, Odyssey Family Counseling Centers, the Families of Homicide Victims and Missing Persons, and Mealey's Lexis-Nexis.
Keith Franz has long been a victims' advocate and is highly regarded for his experience in aviation law and wrongful death claims. He has provided substantial pro-bono assistance to Mothers Against Drunk Driving (MADD), serving as the organization's representative on the Governor's Task Force for Crime Victims' Rights for the last 25 years. Mr. Franz also acted as lead council in New York Federal Court, representing several families touched by the horrors of the September 11 terrorist attacks.
Ronald C. Long is the Head of Aging Client Services for Wells Fargo. In this role, he leads a team that works with all of Wells Fargo's business units to help them stay abreast of the changing regulatory environment concerning issues related to the aging client. Ron has visited regulators and agencies in all 50 states and the District of Columbia ensuring that they are aware of the challenges facing the older banking and brokerage client, and helping promote solutions that will help protect them from elder financial abuse. With his leadership, Ron is helping all business lines focus on day-to-day needs for aging clients and their families.

He has been a panelist on regulatory issues and is very active in industry organizations, chairing SIFMA's State Legislation and Regulation Committee in 2015. He was the lead author of a number of comment letters and white papers in the aging area. Since 2006, Ron has taken an influential role in the securities industry in reviewing how it engages its older clients. He has spoken at numerous conferences including the Institutes of Medicine, American Society on Aging, International Association of Gerontology and Geriatrics, and the White House Conference on Aging to name a few. He has given numerous interviews on elder financial abuse to the financial media and other mainstream publications. He is a recipient of the Barbara McGinity Service to Seniors Award presented by the National Adult Protective Services Association and he was chosen as one of 12 Influencers in Aging for 2019 by the publication Next Avenue.

Prior to his current position, Ron worked in Wachovia Securities' Legal Department starting in June 2002, heading up the team focused on regulatory inquiries. Before joining Wachovia Securities, Ron was the District Administrator of the Securities and Exchange Commission's Philadelphia District Office and worked as a Counselor to Chairman Arthur Levitt. Ron started his legal career as an associate with the San Jose, California law firm of Hoge, Fenton, Jones and Appel, Inc. He is a graduate of Williams College and received his law degree from Georgetown University Law Center.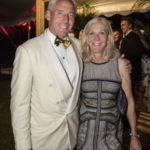 With his sister, Alexander Auersperg co-founded the National Center for Victims of Crime in 1985 in honor of their mother, Sunny von Bülow, and they both continue to support the work of the National Center. In 1986, Mr. Auersperg co-founded the Sunny von Bülow Coma and Head Trauma Research Foundation, a private operating foundation established to promote medical research and public awareness as it relates to coma and head injury, also with his sister. He received a Bachelor of Arts in International Relations from Brown University in 1982 and currently resides in New York with his wife and children.
With her brother, Annie Laurie (Ala) Isham co-founded the National Center for Victims of Crime in 1985 in honor of their mother, Sunny von Bülow. In 1986, Mrs. Isham co-founded the Sunny von Bülow Coma and Head Trauma Research Foundation, a private operating foundation established to promote medical research and public awareness as it relates to coma and head injury, also with her brother. She is an experienced filmmaker, whose credits include works on photographer Alfred Eisenstadt, Wagnerian tenor Peter Hoffman, and the award-winning production Surviving Coma: The Journey Back. Mrs. Isham is the mother of two children, Sunny and Alexandra, and is married to Ralph H. Isham.
Ms. Bogda is an attorney at Bogda Law Office in Bena, Minnesota. She also serves as an attorney, consultant, and prosecutor for the Pauma Band of Mission Indians in Pauma Valley, California; as an appellate justice for the Turtle Mountain Band of Chippewa Court of Appeals in Belcourt, North Dakota; and as a tribal liaison for the National Criminal Justice Training Center, AMBER Alert Training and Technical Assistance Program, in Appleton, Wisconsin.
David Brown is a senior associate with the Juvenile Justice Strategy Group of theBaltimore-based Annie E. Casey Foundation (AECF). Mr. Brown, who joined the Casey Foundation in 2011, coordinates grant-making, budget development, and other aspects of the juvenile justice system reform work. The Case Foundation's agenda is designed to improve the odds that delinquent youth can make successful transitions into adulthood, primarily by reforming the juvenile justice system so that they incarcerate fewer youth, rely more on proven and family-focused interventions, and create opportunities for positive youth development.
Mr. Clemente is a retired FBI Supervisory Special Agent, as well as a former prosecutor from New York City. Mr. Clemente, a 22-year veteran of the FBI, worked on cases ranging from bank robberies to public corruption to serial killers, and he was a profiler with the FBI's Behavioral Analysis Unit for more than a decade. Since his retirement in 2009, he was worked as an independent consultant for Park Dietz & Associates and the Academy Group, Inc. Mr. Clemente also writes, teaches, and consults on several television programs, including Criminal Minds and Crime Farm.
Antigone Davis is Head of Global Safety at Facebook, where she works with internal teams at Facebook and with external safety organizations and government bodies to ensure that Facebook remains a leader in online safety and that stakeholders understand the steps Facebook takes to promote safety online. Antigone also leads the efforts of Facebook's Safety Advisory Board, a team of leading safety organizations from around the world who provide Facebook with cutting edge research and advice on best practices, as well as its Global Safety Network.
Antigone serves on the International Advisory Board for WePROTECT as well as the boards of the National Cybersecurity Alliance, the Family Online Safety Institute, and the National Network to End Domestic Violence. Prior to joining Facebook, Antigone spent 10 years working for a State Attorney General. As Senior Advisor to the Attorney General, she helped establish the office's first online privacy and safety unit, and led the National Association of Attorney General's 2012-2013 presidential initiative "Privacy in the Digital Age." Before serving in the public sector, Antigone used her juris doctorate from the University of Chicago Law School as a corporate attorney in Chicago and her masters in education as a middle school and high school teacher. Antigone received her B.A. from Columbia University.
Philip M. Gerson, the founding board president for the National Crime Victim Bar Association, is a board-certified civil trial lawyer who has practiced law in Miami for more than 47 years. He is a cum laude graduate of the University of Miami Law School. Mr. Gerson is permitted to practice in all Florida courts, the United States Supreme Court, the United States Court of Claims, the United States Court of Appeals for the Fifth and Eleventh Circuits, and the United States District Court for the Southern and Middle Districts of Florida. He is a sustaining member of the Association of Trial Lawyers of America, the Dade County Bar Association, and the Dade County Trial Lawyers Association. He is also an EAGLE patron of the Academy of Florida Trial Lawyers and has served on the Florida Bar of Continuing Legal Education Committee. Mr. Gerson serves on the board of directors at St. Thomas University School of Law and is also a partner at Gerson and Schwartz, PA. He limits his practice to plaintiffs' injury and death cases with a focus on third-party liability for criminal acts, maritime accidents, motor vehicle accidents, medical malpractice, defective products, and other complex litigation.
A partner in the Haggard Law Firm in Coral Gables, Florida, Michael Haggard is a former assistant public defender who now practices personal injury law. He focuses on negligent security, wrongful death, unsafe premises, product liability, and insurance coverage issues and has established himself as a powerful force in the south Florida legal community. He has won high-profile cases and multimillion-dollar verdicts in cases dealing with pool accidents involving children, as well as the first case involving cell phone distraction. Compassionate, empathetic, and a fervent advocate for victims of crime, Mr. Haggard has dedicated his career to the pursuit of justice on behalf of his clients in the courtroom. 
Randall is an entrepreneur and venture capitalist with a passion for working with and mentoring talented entrepreneurs. Randall is the founder and CEO of JUMP Investors, a venture capital firm; the founder and CEO of Sandee, a travel company; the co-founder and co-CEO of Thrive Properties, a real estate investment firm; and the owner and CEO of CollarCard, LLC, a promotional product company. Randall is also a co-founder of Akamai Technologies, the global leader in content delivery network (CDN) services. Akamai serves nearly 30 percent of the world's web traffic, employs nearly 8,000 people. Randall graduated Phi Beta Kappa from the University of Michigan, and also graduated with honors from Northwestern Pritzker School of Law. He has served on the board of Northwestern's law school for 19 years, and he previously served on the Dean's Advisory Committee at Michigan for 18 years. Randall lives in Los Angeles with his wife and children.
Stephen Rickman brings an exceptional record of hand-on experience, offering more than 16 years of experience in high-level government programs and projects. He has served as the organizer and vice chair of the Community Prevention Partnership, president of the Justice Research Statistics Association, director of the Washington, D.C., Emergency Management Agency, division director of the U.S. Department of Justice's Bureau of Justice Assistance, director of the Department of Justice's Weed and Seed Program, and readiness director for the White House Office of Homeland Security. When he worked for the Weed and Seed Program, Mr. Rickman expanded the program from 16 sites to nearly 300 in four years and grew its budget from $16 million to more than $50 million. For the last eight years, Mr. Rickman has served as the director of homeland security for CNA, a nonprofit research and analysis operation that services federal, state, and local clients in homeland security and public safety planning, training, and operations.
Eric Smith is the assistant dean for external affairs emeritus at the Florida Coastal School of Law. He is also a professor there. He is the president of the Victim Assistance Legal Organization (VALOR), vice chair for Families of Slain Children, the founder of the Jacksonville Victim Services Center, and a partner at Maddox Horne Law Firm. Mrs. Smith is also the producer and host of the television program "People and Politics".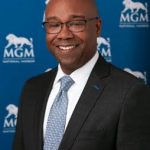 Mr. Watson, who has served as MGM National Harbor's vice president of government affairs since 2017, is also a former consultant and 20-year veteran of the Prince George's County Police Department. As a Maryland police officer, Mr. Watson served as an academy instructor, the Fraternal Order of Police Lodge 89 vice president, and a K9 handler. He is also the 2002 recipient of the Prince George's County Police Officer of the Year award.