Child Victims Act in California
California Governor Jerry Brown Vetoed SB 131
Read the National Center for Victims of Crime's Statement on Jerry Brown's Veto of the Child Victims Act (SB 131)
---
Overview of SB 131, the California Child Victims Act
Background
In 2002, recognizing that it can take decades before victims of child sex abuse can come forward, or even recognize how they have been harmed, California amended the civil statute of limitations with a two-prong approach to give victims an opportunity for  justice. Under a "delayed discovery" provision, victims could file suit within three years of when they discover that their current injury or condition was causally related to the childhood sex abuse. For victims who had previously made their causal connection or whose statute of limitations had otherwise expired, the legislature created a one-year "window" in which victims could file a civil suit without regard to the statute of limitations.
The Quarry bothers were sexually abused in the 1970's, but did they did not recognize how they were harmed by the abuse until the late 2000's. They filed suit within three years of making the causal connection.  In 2012, the California Supreme Court ruled that the delayed discovery provision did not apply to the Quarrys because the language of the statute was not explicitly retroactive.  Consequently, their statute of limitations expired when the civil window closed  in 2003.  In effect, the court ruled that the law required them to file suit before they even knew they had been harmed.
SB 131, the California Child Victims Act, will do three things:
It will make retroactive the delayed discovery provisions of 340.1 to comply with California Supreme Court decision in the Quarry case.
It will provide a limited, one year, civil window to provide an opportunity for justice to those victims who were previously excluded by the technical defect of 340.1.
340.1 requires a victim suing a third-party to allege in his or her initial pleading specific proof that the defendant had notice of the sexual abuse.  The proof of this knowledge is usually documented in the defendant's own files.  SB 131 would allow the parties to conduct discovery before the court could rule on a motion to dismiss for failure to allege proof of notice.
---
Become a part of the national movement to protect children and hold abusers and those who harbor them accountable.
This One Minute petition will help victims of child sexual abuse of all ages.
Child Victims Act Awareness Posters
Download these posters and share them in your community!
---
Key States Currently Considering the Child Victim Act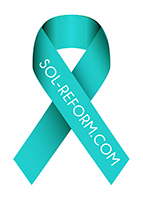 For more information on reforming statutes of limitation for child sex abuse and efforts in other states, please visit one of our advocacy partners at www.SOL-Reform.com
---

Vote Smart
Find contact information for your elected representatives and let them know you support the Child Victim Act!
Track your elected official's record.
---
Need Help?
If you are victim or adult survivor seeking assistance, please refer to our Connect Directory for a full listing of organizations that can provide help. Visit HERE
---
The Problem
The sexual abuse of children is a public health epidemic in the United States. Recent child sex abuse cases at Penn State University, the release of documents concerning sexual abuse and the Boy Scouts and consistent reports of abuse within California institutions such as Miramonte Elementary School are recent examples.
Research has shown that as many as one in four women and one in five men suffered abuse as a child and that almost 90% of abuse never gets reported.  Those that do come forward find themselves barred by the legal technicality of a statute of limitation. Considering how long victims often take to find the courage to speak out, statutes of limitation are woefully short and act as an arbitrary barrier to justice.